Sponsor a GEO Event
From our flagship annual in-person and virtual events to local Chapter meetings and webinars, we have a range of event marketing and business development options available.
No matter your budget, GEO will work with you to ensure positive return on your investment.
All opportunities are offered on a 'first come, first served' basis.
CURRENT SPONSOR OPPORTUNITES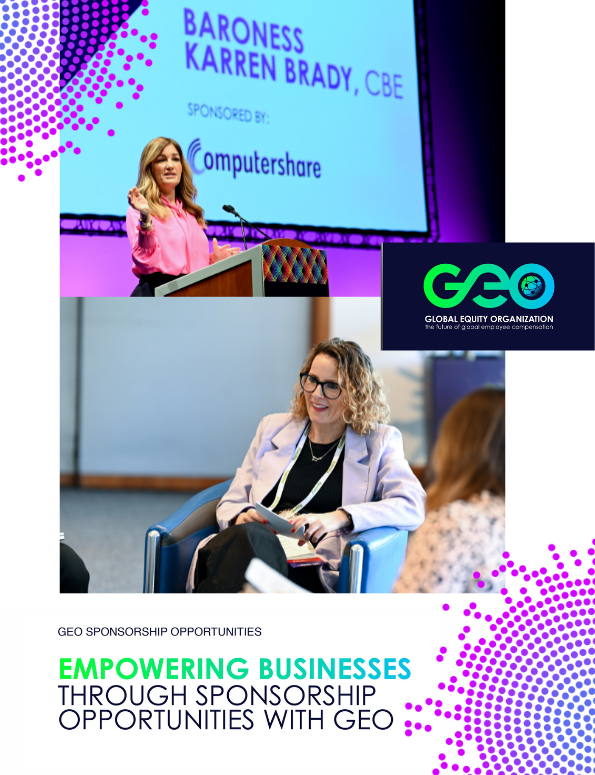 GET EXCLUSIVE ACCESS TO THE GLOBAL SHARE OWNERSHIP COMMUNITY
Sponsorship with GEO gives you access to a powerful and engaged audience of thousands of access to a powerful and engaged audience of thousands of globally based stock plan professionals.
We bring together industry leaders in equity and executive compensation to exchange ideas, share best practices, examine the latest trends and establish lasting relationships.
WHY SPONSOR?
Sponsorship with GEO provides your company with the ideal platform to meet its marketing and business development objectives.
DEMONSTRATE with thought leadership content that highlights your commitment to employee ownership
SHOWCASE your company and team's expertise amongst thousands of industry professionals
ENGAGE the right senior-level global professionals, decision makers and business partners
GROW with high-quality leads through GEO's engaged membership base and extensive contact lists
NURTURE authentic and long-lasting relationships with new contacts from around the world
All statistics are sourced from the GEO Edinburgh 2023 survey findings (13 sponsors and 38 issuer respondents).